You are here
Uzbekinvest holds meeting with MDIS students
On 31 October, the National Export Import Insurance Company Uzbekinvest held a meeting with students of the Management Development Institute of Singapore (MDIS) in Tashkent. The event saw the leadership of Uzbekinvest, heads of departments, students of the institute studying in different directions, and professors.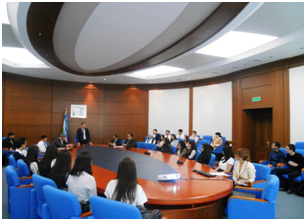 The main purpose of this meeting was to inform students about the activities of Uzbekinvest, insurance products, insurance system of the country and to attract talented graduates to increase their skills, and in the future to work in the company.
During the event, which was held in the open dialogue format, the experts of Uzbekinvest told the participants about the activities of the company, its organizational structure, types of insurance.
UzReport Information Agency