You are here
My Family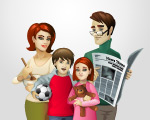 Family Medical Insurance
Under family medical insurance policy, you can get medical care for acute illness, injury, poisoning, frostbite and burns that have occurred to you or your close relatives (spouse, parents, and children), up to 12 people stated in the policy, during insurance period.
For efficient organization of the service, you should contact twenty-four-hour assistance service by phone number specified in insurance policy. Assistance Service will direct you or your relative to necessary medical institution or arrange urgent hospitalization. The list of medical services providers consists of the leading medical organizations which are contracted on long term basis by the Assistance Service.
All services provided to you or your family under insurance policy will be paid by us.
26.06.2014