You are here
My Automobile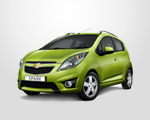 Insurance of motor vehicle parts under the first risk
Insuring vehicle parts under the first risk means providing insurance cover to your automobile against damage resulted from traffic accidents, natural disasters, fire, explosion, strike of objects, fall of aircrafts and illegal acts of the third parties.
The condition "under the first risk" means that our obligations will discharge after the payment of insurance indemnity by first insurance event regardless of whether this insurance indemnity is less than or equals to the sum insured. In this case, the scope of risks, the type and size of deductible (portion of losses covered by you) and insurance amount are chosen by you, and we set the minimum insurance amount (not less than 20% of the vehicle value).
Insurance indemnity is paid in the amount of damage determined by the claims representative without subtracting depreciation amount and within the sum insured.
In case the damage to your vehicle is not larger than 3% of the sum insured, the documents from investigating bodies authorized to perform investigation of insurance event circumstances are not required.
Owing to such terms, you can get insurance service for less money than it would cost you when full insurance of your vehicle.
26.06.2014