You are here
My Health
Accident insurance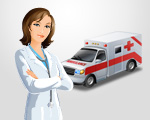 With this insurance, you can protect yourself from unexpected expenses that may occur when accidents happen with you or members of your family (spouse, children and parents), up to 8 people stated in the policy, during insurance period.
In case of accident you will have a chance to contact our Assistance Service and get medical assistance in the leading medical organizations which are contracted on long term basis by the Assistance Service or receive appropriate compensation amount as a percentage of the sum insured, depending on the severity of injury.
You can choose the insurance amount for the whole family within which the whole family will be insured. This makes the policy much cheaper than if it was set a separate insurance amount for each member of the family.
27.06.2014