You are here
Mothers Insurance
          Mothers Insurance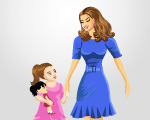 Under this insurance policy it is possible to insure the woman-mother no older than 50 and her children no older than 14 in case of emergency hospitalization of the insured person (mother and/or child) for more than 5 days within insurance period.
If in the period of hospital stay the insured is operated on, extra 20 percent of the insurance amount will be paid under the policy.
In case of emergency hospitalization the insured must contact our Assistance Service that will direct him to one of the leading medical organizations which are contracted on long term basis by the Assistance Service.
During the treatment of the insured in the hospital, the Company shall cover all medical bills within the sum insured.
27.06.2014