You are here
Mortgage Insurance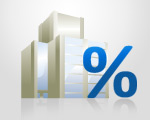 You have decided to improve living conditions and already picked up an organization or bank willing to give you a mortgage, have not you?
Since the bank or credit institution is interested in timely repayment of the loan, one of the binding conditions for its receipt will be your insurance policy.
Under the insurance policy, the Company provides cover for the insured property in case of insurance event due to the following risks: flood, storm, hurricane, heavy shower, hail, heavy snowfall, landslide, landslip, mudflow, lightning strike, earthquake, fire, explosion, burglary, strike of objects, illegal acts of third parties.