You are here
Dental Expenses Insurance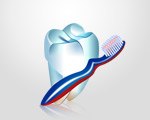 Under this insurance policy you can insure yourself or any other person in case of the injury or disease of the teeth and/or oral cavity arising during insurance period which led to:
1. fluorosis;
2. hyperesthesia;
3. tooth injury;
4. superficial caries - tissue defects localized only on the enamel tissue except for the median and deep caries when the cavity is localized within the dentin and/or destroyed much of the dentine;
5. vascular disorders of the pulp;
6. pulp necrosis;
7. pulpitis;
8. parodentium;
9. gingivitis;
10. catarrhal gingivitis due to injury;
11. stomatitis due to injury.
In order to receive dental treatment you must contact our Assistance Service and receive medical cure in the leading medical organizations which are contracted on long term basis by the Assistance Service.
When using medical institute's services, the Company shall cover all medical bills for dental services rendered within the sum insured.
27.06.2014